DeSantis' teachers' bill of rights praised after battle with White House over 'woke' curriculum
Florida Gov. Ron DeSantis (R) has prioritized education as a key issue in his tenure as governor, and his latest venture to insulate classrooms from "woke" ideology has garnered support. 
Fox News contributor Leo Terrell touted DeSantis for his newest proposal on "Fox & Friends," which is a teachers' bill of rights designed to prevent critical race theory from being taught while empowering educators to stand firm in the state's curriculum. 
"It gives teachers independence from the union," Terrell told Ainsley Earhardt Tuesday. "It basically tells the teachers, you don't have to worry about getting political pressure from these teacher unions. And everyone knows that the teachers unions are set up to create an indoctrination program, critical race theory, all set up by the Democratic Party."
TAMPA RESIDENTS SPEAK OUT AGAINST SCHOOL DISTRICT'S SEX ED CURRICULUM, CALLS FOR IT TO BE REMOVED
"It gives teachers the right to be free from pressure," he continued. "It turns them into a right to do what they are there for, and that is to educate the students."
The proposal, if enacted, will empower teachers by providing them civil remedies if they're asked to violate Florida law, a new stream-lined system to report rights' violations, and resources to safeguard their classrooms.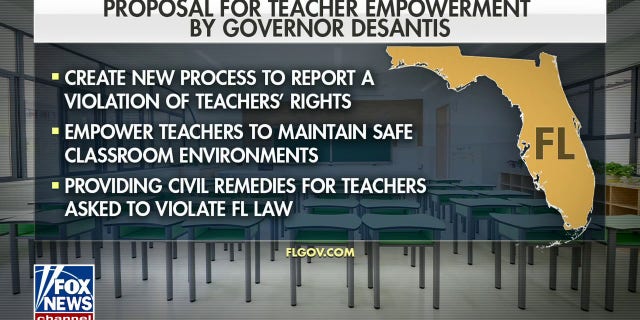 It will also funnel $1 billion to bolster teachers' salaries. 
"Brilliant decision by Ron DeSantis," Terrell said. "It's a blueprint to take away the political power of these Democratic teachers unions."
ARIZONA UNIVERSITIES DEMAND RIGID ALLEGIANCE TO 'DIVERSITY,' SUPPRESS HIRING OF CONSERVATIVES: STUDY
DeSantis has been widely known for fighting back against "woke" indoctrination in the classroom.
It comes after the Florida Department of Education barred an Advanced Placement (AP) class on African American studies over questions regarding its educational value and ties to Critical Race Theory (CRT). 
The Education Department notified the College Board in a letter it would not be endorsing the course in classrooms across the state, arguing it "lacks educational value."
Fox News Digital obtained the course syllabus which details sections dedicated to "Black Queer Studies," "Intersectionality and Activism," and "The Reparations."
DESANTIS LACKS 'CHARISMA' TO BE PRESIDENT, LIBERAL MEDIA INSISTS: 'THEY LIKE HIM BECAUSE THEY DON'T KNOW HIM'
The College Board insisted the class, which has been in works for more than 10 years, is set to launch nationwide in 2025, but also noted it plans to release the finalized course content before sending it to classrooms across the country. 
"Like all new AP courses, AP African American Studies is undergoing a rigorous, multi-year pilot phase, collecting feedback from teachers, students, scholars and policymakers," the College Board said in a statement to Fox News Digital. "The process of piloting and revising course frameworks is a standard part of any new AP course, and frameworks often change significantly as a result."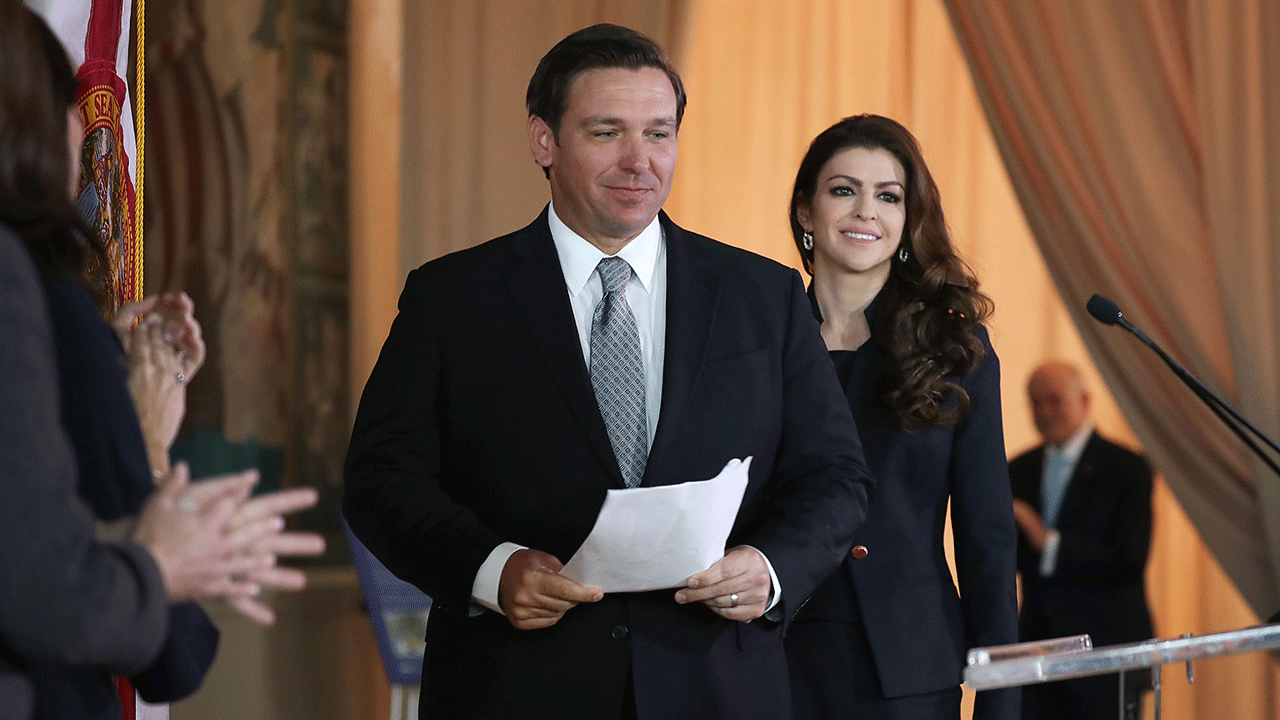 DeSantis backed the state's rejection of the course on Monday, even after White House scrutiny, accusing the far-left of pushing their "political agenda" on Florida's most vulnerable – children. 
"In the state of Florida, our education standards not only don't prevent, but they require teaching black history, all of the important things, that's part of our core curriculum," DeSantis said during a press conference. "This course on Black history… what's one of the lessons about? Queer theory? Now who would say that an important part of Black history is queer theory? That is somebody pushing an agenda on our kids, and so when you look to see they have stuff about intersectionality, abolishing prisons, that's a political agenda."
White House Press Secretary Karine Jean-Pierre slammed DeSantis for banning the course, calling it "incomprehensible."
CLICK HERE TO GET THE FOX NEWS APP
"It is incomprehensible to see that this is what this ban — or this block, to be more specific — that DeSantis has put forward," she said last week. "If you think about the study of Black Americans, that is what he wants to block and, again, these types of actions aren't new, especially from what we're seeing from Florida, sadly."
DeSantis supporters have praised him for his efforts to thwart what they call their effort to indoctrinate kids at school, touting him for "standing face to face" with the "woke" ideology. 
"They've hijacked our mission, they've hijacked the civil rights movement, they've hijacked a lot of the things that the Black community has put forward and has kind of… operated as a Trojan horse during this time, and I think that that's what's happening right now," Janelle King, co-founder of "Speak Georgia," said during "Fox & Friends First" Tuesday. 
King said more Republican leaders need to confront this "head-on" because the Black community does not support the left's gender ideology.
"There's no room for negotiation when it comes to this type of behavior," she said.
Fox News' Kendall Tietz contributed to this report.